Kourou, French Guyana (1985)
Kourou, French Guyana, what a fantastic thought.

Owned and administered by France as one of the furthest away parts of the European Community (or whatever it was called then) from the European mainland. Apart from all these thoughts, we were going to launch a satellite to fly to Halley's comet. Travelled from London to Paris, overnight stop and then next day to Cayenne, French Guyana. We travelled on a standard Air France flight. NOT on Concorde, like the VIPs and journalists who came to see the launch.

Experiences in Kourou were quite good, really; exceptions were: HERTZ, who seemed to think a petrol cap was not necessary, dust or rain did not bother them; ESA, who had some 'interfeering' attitudes, and seemed to think it was their duty to enable, or not, our bank account usage. Not simply attend the bank and do your business, but only with ESA recommendation. Air France were also extremely bad about booking tickets, usually with CNES/Arianespace/ESA involvement and massive pre-bookings. I was so pleased that I took Henri Charriere book 'Papillon' with me; I even thought of leaving the island by that route since the booking system was so bad. Surprisingly, we had major problems with the bookings only on the first trip (we went twice in six weeks, for pre-launch testing, and then the actual launch); the second trip was much easier, since a couple of days after the launch the only people still there had work to do and then go home, while all the others, who had come for the launch filling the hotels (requiring experimenters to share rooms!) had left, surprisingly !!!

We stayed at the Hotel Des Roches, beachside, and it was really good, looking out over to the Iles du Salut (Ile Royale, Ile Saint Joseph and Ile du Diable - Devil's Island). I believe in the distant past local people used to move to these islands to escape from massive health problems on the mainland. We of course did the standard day trips to Cayenne, Saint Laurent du Maroni, up to the turtle beaches, and Ile Royale. These were pleasurable experiences and were added to by such novelties as being served 'chilled red wine' (surprising at first, but soon appreciated), since room temperature would have been rather too warm, and dining at the outside restaurant at Des Roches with pepper and salt pots on the table accompanied by anti-mosquito spray. Very practical, but unusual.

The visit to Ile Royale was quite shocking. The small boat was a shock in itself, it grounded on a couple of occasions, not seriosly, but we all had to move around on it. Some of the natural sites on the island were really beautiful, but some of the buildings, such as the prison cells, were still a frightening sight, and I do not remember how long ago the French stopped keeping prisoners in them.

I am so pleased to have gone to Kourou, seen such a different part of the world, done the job that I had to do, and managed to come back with no health problems that I knew of (unlike some others of us).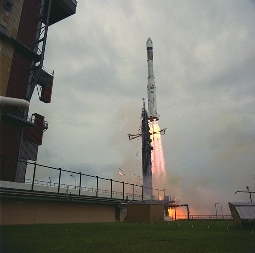 Giotto launch from Kourou, French Guyana