HOWTO - Install a network printer
---
Click below for installation instruction for you operating systems:
---
0Boyd-colour
0Boyd-mono
0Main-colour
0Main-mono
0Nu-colour
0Nu-mono
0Stable-colour
0Stable-mono
Poster-A0

(Location name followed by the output type.)
Hold the windows key (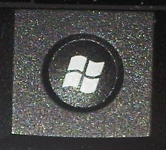 )and press r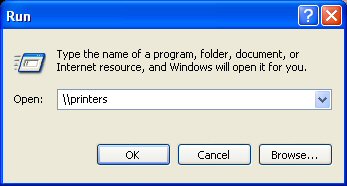 Insert "\\printers" into the box as above and click OK (You can use \\samba too, we suggest you stick to only one of these)
You may be prompted to login at this point, please login using your MSSL credentials (same credentials used for tickets & Staff-Wireless).
If you don't save your credentials you will need to login to \\printers everytime you power on your computer to be able to print!!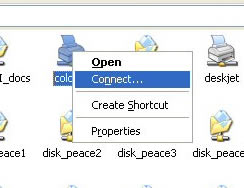 Now right click on the printer ie "0Main-colour" (see list) you want to install and select connect.


Click YES so the the server will configure the printer and install the driver for you. Nothing will seem to happen now but if you check in "Printers and Faxes" you will see that it has appeared. Right click on it to Set as Default Printer if you want to set it as your primary printer.
---
WINDOWS - html method
1. In Control Panel - Hardware & Sound, Click Advanced Printer Setup
2. Click on "The printer that I want isn't listed"
3 Enter http://printers.mssl.ucl.ac.uk:631/printers/0Main-colour (see the image below)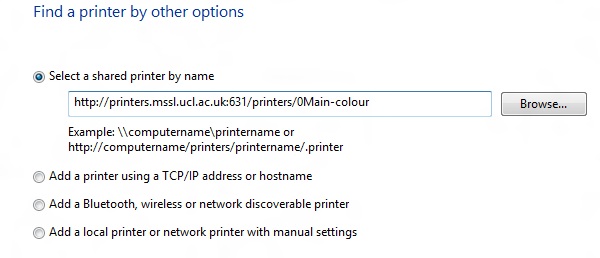 4. Clicking next will prompt you for the driver Select Have Disk and point to 32 or 64 bit directory in this zip - ( Download and unzip 0Main-colour.zip )
5 Select the driver "Taskalfa 5550ci"
6. Set user access (Control Panel - Hardware and Sound - Devices and Printers)
Right Click on the new printers, select Printer properties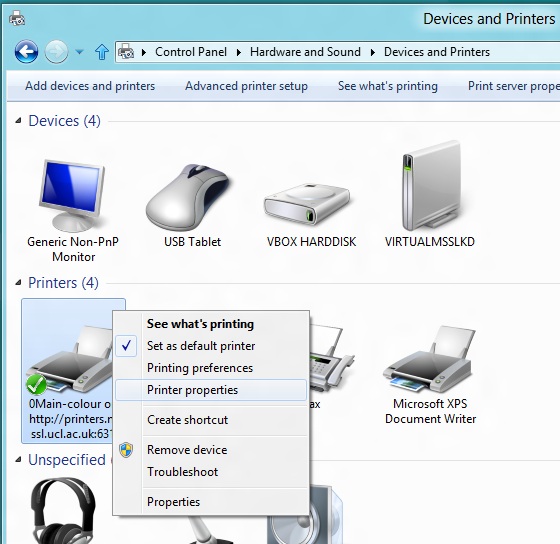 and Ports then Configure Port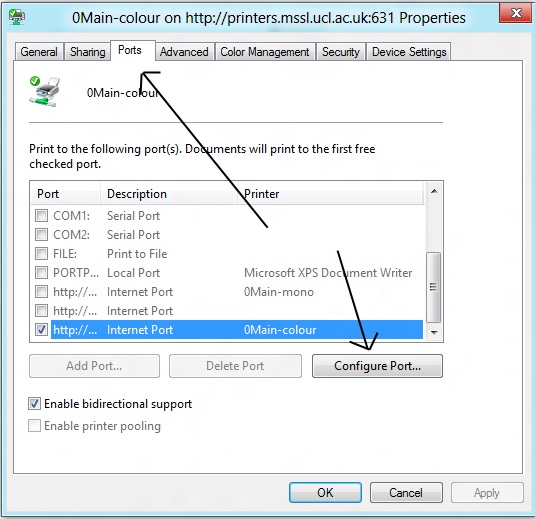 7. Now Enter you userid and password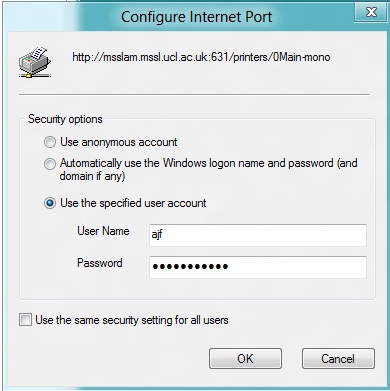 8. Click ok on both windows to close
---
Redhat MSSL Desktop
Printers are preconfigured. Select the one using the print menu or from the command line using lp
Mandrake
Open the Mandrake Linux Printer Management tool.
Select "Configure CUPS".
Make sure "Automatically find available printers on remote machines" is checked and Click "OK".
Now click on "Configured on remote machines" to see the list of printers. (You may need to click "Refresh" a few times before the complete list of printers becomes visible)
pick the printer you want (see list)
Others versions
If you have CUPS installed then you should be able to search using the the printer control panel as above else you may need the PPD's to install them manually.
---
1. Open Terminal (located in /Applications/Utilities). DO NOT RUN IN AN XTERM WINDOW!
2. Type or paste this command, followed by Return, you will be prompted for your password (only on the first link):
sudo cupsctl BrowseProtocols='"cups dnssd"'
sudo cupsctl --remote-printers
sudo cupsctl --no-share-printers
sudo cupsctl BrowseInterval=30
sudo cupsctl BrowseTimeout=300
sudo cupsctl KeepAlive=Yes
sudo cupsctl Timeout=300
3. (You may need to reboot)
4. Magically a list of printer will appear when you try to print.
You will need to login twice each session (not each print job) to print to main-colour & main-mono, you may also need to resume the print job.
MAC TIP: When printing PDF's with transparencies use acrobat reader.
Mac's après Lion (Mavericks, Yosemite, El Capitan, Sierra, High Sierra, etc)
You will need to add the printers manually.
Download the ppd's for your disired printers, save on you desktop (see PPD's below)
(these can be removed from your desktop after the printer is installed)
open a terminal window and enter the following: cupsctl WebInterface=yes
goto http://127.0.0.1:631/admin (login with your local mac account with admin privileges)
Click add printer then select Internet Printing Protocol (ipp) and click continue
In connection enter ipp://printers.mssl.ucl.ac.uk/printers/0Main-colour (or replace 0Main-colour with your target printer name)
(Notice: There is no .ppd on the end of this name)
Add a Name (0Main-colour), description (Please enter the same as the name field!) & location.
DO NOT SHARE THE PRINTER!
Click continue then Choose file and select the ppd that you downloaded in step 1
Click add print then set default options (The default have already been set for you)
Done!
When you print (1st time only?) you may need to resume the job as it will be paused (right hand side of printer info box)
---
http://printers.mssl.ucl.ac.uk:631/printers/0Main-colour.ppd
http://printers.mssl.ucl.ac.uk:631/printers/0Main-mono.ppd
http://printers.mssl.ucl.ac.uk:631/printers/0Nu-colour.ppd
http://printers.mssl.ucl.ac.uk:631/printers/0Nu-mono.ppd
http://printers.mssl.ucl.ac.uk:631/printers/0Boyd-colour.ppd
http://printers.mssl.ucl.ac.uk:631/printers/0Boyd-mono.ppd
http://printers.mssl.ucl.ac.uk:631/printers/0Stable-colour.ppd
http://printers.mssl.ucl.ac.uk:631/printers/0Stable-mono.ppd
---
Andy Fenney, updated November 2012, October 2017