Geotail
The mission
The Geotail spacecraft is part of the International Solar-Terrestrial Physics (ISTP) Program, which was designed to investigate the nature of Sun-Earth interactions. Geotail was launched on July 24, 1992. It was designed and built by the Japanese Institute of Space and Astronautical Science (ISAS) and is a joint project with NASA.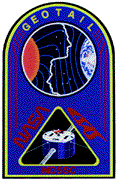 The spacecraft is spin-stabilised, with a nominal spin rate of about 20 rpm. The spin axis is maintained between 85 and 89 degrees to the ecliptic plane. There are seven experiments onboard the spacecraft, including the Magnetic Field experiment (MGF) the Low Energy Particle experiment (LEP) and the Energetic Particle and Ion Composition experiment (EPIC).
The mission was divided into two phases. Phase one lasted approximately 2 years, during which Geotail spent most of its time in the deep tail (maximum apogee about 210 Re) with a period of 1 to 4 months. By February 1995 the apogee was reduced to 30 Re for the second phase of the mission, the investigation into near-Earth magnetospheric processes. At MSSL we are investigating the formation and structure of the geomagnetic tail.
Science Objectives
The science objectives of the Geotail mission are:
The physics of the magnetopause, - to do this, Geotail spent some time on magnetopause-skimming orbits.
Energy transport and storage in the magnetotail - both in the deep tail and in the near-Earth region.
Energy release, reconnection and neutral line formation.
Further Information
The ISAS Geotail page http://www.stp.isas.jaxa.jp/geotail/
The ISTP Geotail page http://www-istp.gsfc.nasa.gov/istp/geotail/
The EPIC homepage http://sd-www.jhuapl.edu/Geotail/
The MGF/LEP summary data http://www.stp.isas.jaxa.jp/geotail/QL/index.html
The CPI homepage http://www-pi.physics.uiowa.edu/cpi/
The DARTS database for LEP and MGF data http://www.darts.isas.ac.jp/