STRV - Space Technology Research Vehicle
The mission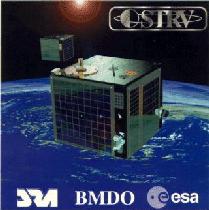 The UK Defence Research Agency at Farnborough developed these two microsatellites to test various spacecraft systems and technologies in a harsh radiation environment. The spacecraft were successfully launched on Ariane V64 on the 17th June 1994 and placed into a GTO orbit that takes them through the centre of the Earth?s radiation belts. They continued to operate successfully until STRV-1a was turned off in March 1998 and STRV-1b was turned off in September 1998. The spacecraft carried instrumentation from the European Space Agency (ESA), the Defence Evaluation and Research Agency (DERA), Ballistic Missile Defence Organisation (BMDO), the Mullard Space Science Laboratory (MSSL) and the University of Southampton. The MSSL instrument on board STRV-1a is the Cold Ion Detector (CID) and was designed and built by the Space Plasma Physics Group.
Science Objectives
The main objectives of the STRV mission was to test new satellite technology in a harsh radiation environment while at the same time monitoring that environment.
Tests were performed on;
Radiation hard computer components and mico-electronics
Solar cells
Satellite structure and materials
Spacecraft charging
Vibration suppression on a cryogenic cooler
Measurements of the ion and electron environment
Cosmic ray measurements
The mission also used ADA software for limited memory conditions.
The MSSL Cold Ion Detector (CID)
This instrument is aboard STRV-1a, and is taking part in the DERA's plasma neutraliser experiment. It is monitoring the activity of ions as the spacecraft passes through the Earth's radiation belts. Data from the CID could provide vital information on the way spacecraft behave and how electronic sparks generated by hot plasma from the sun can damage a spacecraft's electronic systems.
The CID uses a radical new cylindrical design which enables the complex instrumentation to be housed inside an easy-to-mount metal cylinder. The entire detector measures 120mm in length and has a mass of 180g (less than a quarter of the mass of previous detectors).
The MSSL Space Plasma Physics Group re-worked the retarding potential method of ion detection, adding a second voltage deflector to restrict and control the width of the energy band pass.
During the flight, the MSSL CID is taking part in several experiments designed to look at the distribution of plasma in the magnetosphere and to study the performance of the STRV neutraliser. The CID is also examining the effects of plasma ejected from the spacecraft and how effectively the neutraliser suppresses sparking.
The background measurements made by CID have also been found to be a useful high energy electron detector. The 2 mm of Aluminium shielding give the instrument a minimum energy threshold of approximately 750 keV. Comparison with the measurements made by the Radiation Environment Monitor (REM) on board STRV-1b, which has a minimum electron energy threshold of about 1 MeV, show a good correlation.
STRV Physical Characteristics
Dimensions: 0.4 * 0.5 * 0.5 metres.
Launch mass: 50kg
Power provided by GaAs solar panels<

Orbit
Geostationary transfer orbit.
Apogee: 35795 +/- 5km
Perigee: 200 +/- 1km
Period: 10h 35m
Inclination: 7 degrees

Links