XMM Users' Handbook
---




Next:
SciSim configuration GUI
Up:
XMM Science Simulator (SciSim)
Previous:
SciSim - a brief
   
SciSim Graphical User Interface
SciSim can be executed from both the command line and from a specially developed GUI. The top-level SciSim GUI is presented in Fig. 84. It offers several click-on buttons for choosing operations.
Figure 84:
The top-level GUI of the XMM Science Simulator (SciSim), presenting a field of view on the sky that will display any emitting sources that can be chosen from catalogues or defined by the user.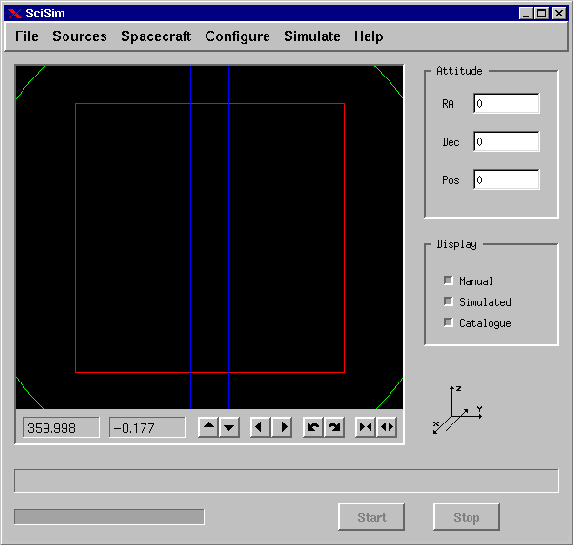 ``File''

This offers various options to import or save source, configuration and default parameters.

``Sources''

Under this option the user manually edit model sources, simulate a random source distribution, import sources from catalogues and influence the properties of the modeled background.

``Spacecraft''

Spacecraft effects will not need to be modeled by general XMM users. The options offered here are for instrument calibration purposes.

``Configure''

This spawns the instrument configuration GUI, which is used for configuring SciSim, see below.

``Simulate''

Start/stop a simulation.
---
---





Next: SciSim configuration GUI Up: XMM Science Simulator (SciSim) Previous: SciSim - a brief European Space Agency - XMM Science Operations Centre