The MSSL Space Plasma Physics Group pages have moved to
HTTP://WWW.UCL.AC.UK/MSSL/SPACE-PLASMA-PHYSICS.
Information about the PEACE instruments on the Cluster and Double Star Missions remains up-to-date on this site. Please update your links accordingly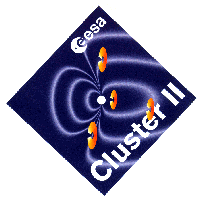 Cluster : PEACE
The Cluster Mission
---
The Cluster Mission, for the first time, explores the magnetosphere with a fleet of four spacecraft orbiting in a group. The four spacecraft combination is itself a new kind of tool able to make measurements that a single spacecraft cannot make. Cluster, together with the solar observatory SOHO, launched in 1995, forms the First Cornerstone of ESA's Horizon 2000 programme. The Cluster project has succeeded despite the loss of the original spacecraft quartet in a launch accident. To learn more, see below.

The Cluster II Mission

The Cluster Mission Concept
---
By Andrew Fazakerley and by S. Szita
Last updated on 24-Mar-2006 by Andrew Fazakerley